Hahaha =) Tittle sajo yang gempak. Padahal nak cerita tentang ayam. Hehe.
Lagi lagi cerita ayam cik Fathi ni. Takde menu lain ka? Macam mana cik Fathi nak cerita pasal itik ka, lembu ka, sedangkan laki cheq makan ayam ayam ayam. Pasrah sajo lah yo. Kalau mahu cuci mata dengan sajian ayam, di sini lah tempatnya. Hahaha =p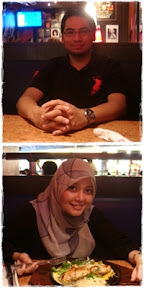 enterframe gambaq kami dulu naaa =)
Kali ini kami tunaikan permintaan perut di TGI Friday's restaurant. No starter dish for us since both of us having a small stomach, but big nafsu =p Kalau diikutkan nafsu, mahu saja Nachos yang lazat itu. Hahaha.
Main menu course, Dragon Chicken for him. A plate consist rice (macam butter rice), baked chicken, broccoli & freshy juicy Sunkist. Yum yum. Saya lupa apa rasa ayam tuh. Tapi sedap la. Hehehe.
For me, HOT & SIZZLING chicken cheezy. Sila sebut HOT & SIZZLING tuh ala-ala gedix Fazura dalam commercial adv Sport Extra Time at Astro Sport Channel =p Ok, my plate consist grill chicken, mashed potato, vege (onion & cili benggala) with melty baked cheese. Pergh… heaven. Hidangan ini memang sangat panas. Serve direct from kitchen. Sabo jelah tunggu sampai hidangan sejuk sedikit. Kalau tidak, melecur lidah kome.
Dessert, mini strawberry parfait. My first try. Ok lah. For me, it's so-so. Mungkin sebab saya lebih suka cake atau brownies with ice cream untuk pencuci mulut. Terangkat beb! =) Basah tekak dengan Pepsi & Pineapple Sunshine. Glass deco macam hula hula Hawaii. Comel kan.
nota kaki : baru try pancake with vanilla ice cream & strawberry. mabeles!!!