Ya,seperti yg dijanjikan...
ini episod ke-2 entry majlis walimah saya :)
Sebelum itu,ingin saya kongsikan bersama,
beberapa butiran mengenai majlis saya
sebagai panduan kepada bakal-bakal pengantin
yg berdebar2 menanti hari mereka...ya kan? ;p
Majlis Nikah
Date: 23 January 2009
Venue: My Home Sweet Home,Bdr Baru Bangi
Theme Color: White + Red + Fushia and family of Maroon
Pelamin :
Puteris
Hantaran + Deco : DIY ;) with family members
Bride & Groom Attires: Fathiyah's ideas & design ;p
Makeup Artist:
Munie Ahmad
Photographer:
Photoclique
Majlis Resepsi
Date: 24 January 2009
Venue: Dewan Presint 8,Putrajaya
Theme Color: Rusty Pink and family & close frens Green
Deco:
Puteris
Bride & Groom Attires:
Puteris
Makeup Artist: Nurjuma aty (Butik Nurjuma)
Photographer:
Candidsyndrome
(
Mukhriz Latif
+
Faisal Rahim
+
Hafidz Kamaruddin
)
Catering : Ihfaq Catering
entry dr blog moqh :
klik di sini!
ok,ada beberapa tips yg saya nak perturunkan..hehe ;p
1) Ape2 pon yg berkaitan deco,hantaran,pelamin,attires bla bla bla...always take note that "Less is More"...simple tu yg lbh menarik bukan ;) trust me...kamu pasti tak akan kecewa kemudian hari.
2) Pastinya utk hari yg berbahagia ni,anda mahu kelihatan menawan :) oleh itu,anda perlu sedikit cerewet dlm memilih makeup artist.Ape yg saya buat,saya buat research setiap makeup artist yg saya berkenan dihati..hehe..saya menilai hasil artwork makeup artist tersebut melalui magazine..saya call mereka, sembang2 & tanya how much they charge..bagi yg lebih concern about aurat,saya cdgkan anda hire woman makeup artist..contohnya munie ahmad,nurjuma aty,saidatulnisa..hasil mereka sgt mengagumkan ;) pasti puas hati.
3) Sentiasa bersederhana & berjimat..hehe..ape yg saya buat,rancang perbelanjaan.saya cr idea ttg deco & hantaran dr internet.perkara yg saya boleh lakukan sendiri,saya akan buat sendiri dgn bantuan keluarga.ya,minta saja tolong sume ahli keluarga anda.jgn segan2 minta bantuan mereka.sbb anda mst kelihatan ceria & bertenaga dihari bahagia anda.jadi,pastikan anda cukup rehat..walaupun anda tak boleh nak tido lena,berdebar2 menanti hari plg brsejarah & memikirkan mcm2 perkara..hehe..saya la tu ;p
4) Senyum sokmo :) igt! hari ini,semua mata tertumpu pd anda berdua..jadi senyum kambeng..haha ;p senyum sampai lenguh muka...minum sky juice sebyk mungkin..hehehe..ini penting utk penjagaan kesihatan anda :)
**********************************************************
sedang berdandan ;p
sahabat sejati! :) gembira punya shbt spt mereka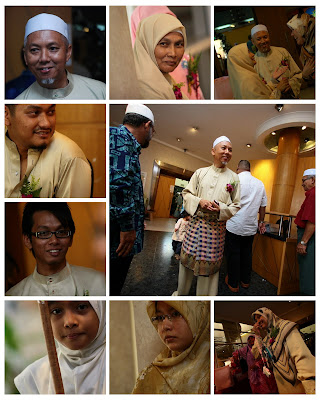 wajah-wajah kesayangan hamba
kompang dipalu....pengantin malu ;p
makan berentap!!! ;p
10BH pekena pengantin ;p huhuhu
mak & ayah kami :)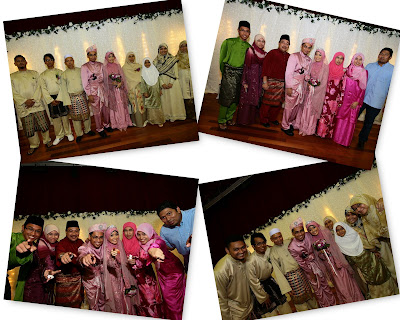 famili kami :)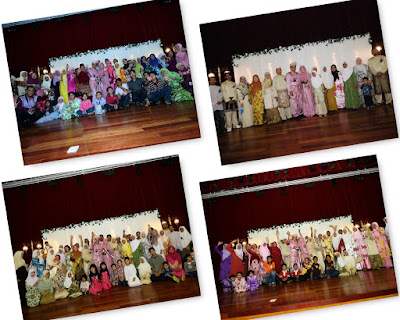 famili besaq kami :)
my frens : gombak 2,taman melati,tikl,UTM frens,geng 10BH(yg ada 7 je),geng jasminians
amik berkat ;p
gila-gila pose!
outdoor potraite
utamakan keselamatan ;p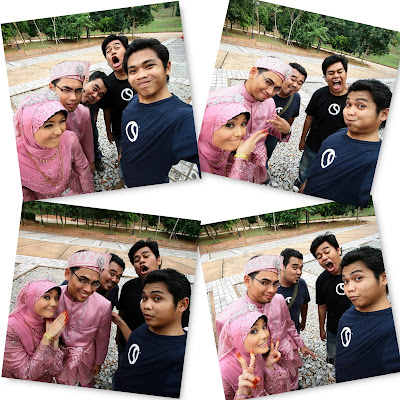 geng photog yg best!