Acara makan-makan ini berlangsung di rumah Pn.Anil & En.Zam malam tadi. Of course lah seronok bila dapat berkumpul ramai-ramai macam nih. Seronok berborak =p Hehehe. Well, itu lumrah perempuan kan.



Tengok gambar saja pon dah tau kan =p Kecoh



Kontra! Geng para suami yang tekun tengok Tv. Hehe

Saya sampai begitu lambat sekali. Huh. My bad. Orang lain drive from Putrajaya to Taman Desa only takes about 10 minutes, haku 1 hour 10 minutes. Dang! Ni yang rasa la ni jugak nak pi cari hanset canggih manggih bagai, then subscribe GPS. ngehehe. *wink* *wink* =p

Entah ceruk mana saya sesat pun tak tau la. Masuk keluar highway. Malam pulak tuh. Teribble. Memang sesat gila-gila lah. Hadoi. Sambil pandu kereta, tahan sebak di dada. Nak nangis ler tuh. Aih, tapi macho woman macam saya tak boleh nangis. Have to be strong. Pusing punya pusing. End up, alhamdullilah saya berjaya juga menjejakkan kaki ke mahligai Anil yang cantik itu. Itu pun setelah Zam pick up saya. Huh. Maaf, saya sudah menyusahkan semua.

Lesson that I learned yesterday. Jangan kecik kan hati suami. Hehehe. Tak berkat perjalanan hidup. Kamu akan diduga dengan rintangan & dugaan yang mencabar. Macam saya la semalam. Ish ish ish. Biasala rajuk suami isteri. Sedangkan lidah lagi tergigit. Ini kan pula Syahrul & Fathiyah. Hehehe =p But, dun worry. Kami dah baik-baik saja. Lepas saya kena brain-wash. Hahahaha. No not like that lah. After warm hugs & kisses, semuanya ok =) Den dah dapat greenlight! Allah, thank you for sending truly understanding & supportive soulmate to me. Alhamdullilah.

Maaf, panjang pulak selingan tadi. Hehe

Macam-macam ada. Maksud saya makanan =)
Inilah senarai geng yang hadir + juadah yang dibawa mereka
Anil - Kuih : Cucur badak, Karipap. Sodap! Den suko.
Diah - Nasi Arab, Roti Nan & Ayam Tandori, Spaghetti Bolognese. Roti Nan memang fav den. The best mint sauce that I ever taste for far.
Nad - Dominos Pizza
Ida - Air Gas
Sab - Ice cream
Hanie - Sandwich tuna & sardin. Super delicious.
Jai - Sate Willy. Izzit correct? Sedap. Boleh kalah Sate Kajang Hj.Samuri. Hehe
Amy - Plates & cutlery.
Ashylla - Nuggets
Sha - Air Gas
Fathiyah - Cocktail Jelly
Ann - Datang makan. Hehe =p Jangan marah ye. Luckly kamu datang tau. Kalau tak, jenuh kami nak tapau. Hehehe.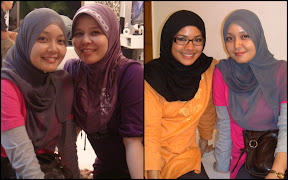 Hanie, sila jangan kempiskan perutmu. Hehehe
With beautiful Sabby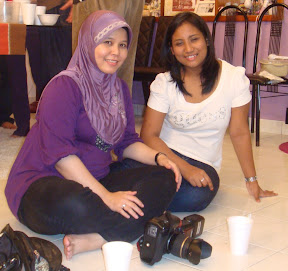 Aha, yang ni nampak perut chomel itu =)

Tentatif semalam,
Makan
Post morterm B&B Gathering meeting
Next Blogger event/activities

Aha, nantikan apa pula aktiviti seterusnya yang mungkin akan dianjurkan ya!
Insyallah. Bila? Masanya belum diputuskan lagi. Puan Pengarah tengah cari ilham. Hehe