Alhamdullilah.
Syukur kerana majlis perjumpaan yang julung kalinya diadakan ini telah berlangsung dengan jayanya. Congrate & thanks to all. Especially Diah & her sweet sis, Anil & Zam , Amy & Atim, Ida, Ashylla & Abdullah, Wawa & husband, Azie & husband, Abby & Fiance, Qis & Mr.A, Ann & Ash, Hanie & husband, Sha & husband and also Jai. Oh, not to forget congrate terima kasih daun keladi pada semua yang datang pada sabtu lepas untuk memeriahkan majlis. Memang tak sangka sambutan yang sebegini ramai. Sangat best! Rasanya, Puan penganjur kita mesti rasa terharu dengan sokongan dari kamu semua. Big hugs & claps!!!



Gathering goodies & Cupcakes lazat! =)

Oleh kerana saya lone ranger hari itu, maka tak banyak gambar yang sempat di snap. Entah hape yang haku sebok pon tak tau ler. Hehehe. Kejap haku ke hulu kejap ke hilir. Padahal den cumo AJK kecik sajo. ngehehe. Jaga registration, itu pon selepas shift Ann, Sha & Wawa. Shift terakher. Hah, kamu belum tengok Puan penganjur lagi. Harus tabik springggg kat dia tau.



Pelamin kesukaan!



The Crowd - penghujung majlis, dah takde crowd. heh.



Hantaran from theme of querafael. contoh pelamin lupa nak snap

Almost semua perjalanan event saya agak lost. Sorry ye pada sesiapa yang bertanya itu ini, tetapi saya kurang pasti. Maaf. Yang saya tau, korang memang enjoy & hepi dapat join games kan? Hehehe =) Lucky draw sapa yang dapat ek? Nombor den kali nih tak kono lah. Tak dak Ong. Cet! =p Hopefully semua yang hadir berpuas hati dengan event nih. Kalau ada yang terkurang tuh, maaf ya. Ada beberapa perkara yang tak dapat dielakkan & tak disengajakan yang berlaku tempoh hari. Maaf sekali lagi. No hard feeling ya? =)

Aha, paling best bila saya dapat ketemu bloggers & readers. Memang seronok habes. Saya berpeluang jumpa Hidd + Adi + Umar Arjuna. 1 happy family. Hidd, seronok dapat borak dengan awak. Sori ye, tak sempat nak lepak lama-lama. Paling terkilan tak sempat bergambar sama-sama la. Next time ye. Insyallah.

Cik Haniza, Kupaslaroren. Awak memang awet muda. =) Ayuni, mommy to be yang comel. Jamilah & Lynda, the sweet bestfriend. Adik Sue & Sunshine, Liyana yang sangat lovely =) Cik Eila pinky & Mrs Zihan, thanks ye tegur saya =) Jarjar, kamu sangat cantik. Pada reader bernama Syazana (cik cantik manis berbaju putih + pink, maaf kalau silap nama) thanks ye tegur saya masa kat booth Ashylla (WLT). Tak lupa jugak kat Pn. Phia & Alien kawan saya yang kiut miut itu. Dua-dua nih memang kecik molek. Phia, kite tak sempat nak tengok album kawen kamu. Sila buat entry album kawen cepat-cepatan ya. Hehehe =) And to all yang mana kita bertentang mata tuh, rasa best sangat dapat berborak dengan kamu semua. Maaf kalau saya tak perasan kamu. Den nih pemalu. Hehehe =p Lagipun, sapo la kenal den nih hah. Btw, nice to meet all of you. Keep in touch. Nanti kita exchange link ok =) Ada tak yang terkejut tengok saya yang sudah tembam macam muffin nih? Hahaha =p



Booth Azie & Ole-Ole Manis



Baju Anil & Diah, Booth Anil & Zam.



Booth Ashylla

Tempoh hari saya tak ada barang untuk dijual atau disewa. Cuma tumpang album kawen saya di booth Ida & Eleena Lamat. Pada siapa yang singgah di situ, mungkin kamu sudah belek-belek album saya yang tak seberapa itu. Insyallah, akan datang mungkin saya ada barang untuk dijual / sewa. Persalinan nikah saya masih elok untuk dipakai. Masih berkira-kira untuk menyewakan baju tersebut. Den fikir dulu yo =)

Saya sempat singgah ke beberapa booth. Itu pun tika penghujung event. Tokei kedai dah sibuk kemas barang, den baru terhegeh-hegeh jenguk. Ada yang tak sempat singgah. Uwh, kechewa =( Saya kira, semua booth malatop habes. Tak terkira banyaknya barang yang menarik perhatian den. Juga menarik du-het dalam wallet den nih. Hehehe. Tapi den sompat usha saja. Hanya sehelai top untuk adik kecik den saja yang sempat dirembat. Itu pun tokei kedai dah simpan dalam beg. Sori kak. Hehe =p Cupcakes & Baby shower cake juga marvelous! Sedap hingga menjilat jari =)

Overall, saya kira gathering ini sukses! Most of the vendors who participate is very talented in their field even tough they are still new & fresh. But they will give you maximise satisfaction with their outcome. Insyallah. And not to forget, their price is affordable & reasonable. Worth to your money =) Hehehe.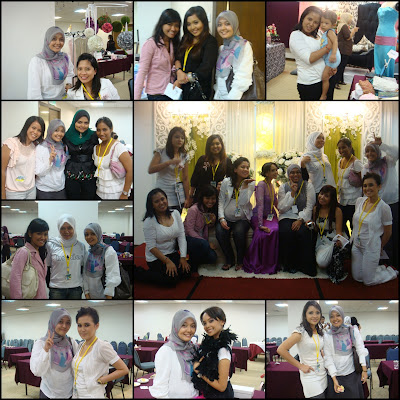 Pada semua yang menjayakan gathering kali ini, terima kasih sekali lagi ya. Insyallah, panjang umur jumpa lagi dilain masa =) Tata