Mesti kamu ternanti-nanti entry yang ini bukan? =p
Ececeh...perasan tak hengat. hehe. I'll make dis entry as short as possible. Tapi, gambar harus lah banyak bukan? Pictures telling more than words! =)

Lets get started in here!
Destinasi so called honeymoon kami kali ini ialah Tioman Island =) hehehe. Ya, panggilan pulau.

Day 1
Kuala Lumpur – Kota Tinggi = 4 hours. Pit stop - Attend wedding. Kota Tinggi – Mersing = approximately 1hour. Sampai saja di Jeti Mersing, harus terus beli return ferry ticket. Sebab biasanya ferry full booked especially during school holiday & peak season. Jadual perjalanan dari Mersing – Tioman & Tioman – Mersing adalah seperti dibawah. Harga tiket RM70 for adult & RM60 for children. Oleh kerana kami dah tak sempat nak kejar last ferry ke Tioman jadi kami decide untuk stay overnite di Mersing. Ada banyak pilihan hotel di Mersing. Kami pilih Hotel Seri Malaysia. Pekan Mersing is not so bad. Banyak pilihan kedai makan, souvenier & gift shop, supermarket & KFC juga ada. Hehehe =p Kodai kegemaran laki cheq.

Day 2
Got first ferry to Tioman, as early as 7am. But you must be there half an hour before the ferry departs. There will be 2ferry at the same time which is they will stop at different jetty (one will stop at lower part of the island and another one will stop at upper part of the island). So, be alert! Jangan tersalah ferry pulok. 9am, we arrived safely at Kg. Tekek Jetty. Kg. Tekek – pusat Pulau Tioman. This small pekan also not so bad for me. Ada kedai runcit, warong makan, balai polis, klinik desa dan lain-lain. Pendek kata, you can find almost all the basic things at Kg. Tekek.




We choose Berjaya Tioman Beach Golf & Spa Resort as our place to stay & memadu qaseh, menyulam cinta. Hahaha. Geli geleman seyh. Uweks =p Btw, our honeymoon comes with 'the bodyguard' package. Haha.

Since my sis got an excellent result in her SPM, so we treat this holiday as a reward to her. Yang si kecik tuh, macam biasa la, have to bring her. Actually, not so called reward from us since ayah sponsor their holiday.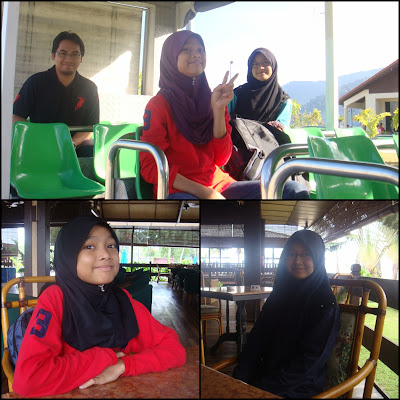 Amboi, seronok betoi hangpa naaa. Hehe.

Ok. Sambung cerita.
Berjaya shuttle bus sedia menanti kami di jeti. Best woo naik shuttle bus nih. Macam kat zoo Negara. Haha. After registration & check-in, we had been treated with fruit punch as refreshment. Sedap. Rasa nak refill je. Boleh ke? Haha.

We didn't take a holiday package with any tourist agency, so we have to plan our own activities. Info from Tioman web, TA, Sab & Dal really helps us to explore Tioman Island. Thanks Sab & Dal! So, without wasting a time, after check-in, we start searching & compare the best trip explorer with the bargain price. We choose combo trip. Darat + Laut. Pakej aktiviti bermula serendah RM80 (dewasa) & RM40 (kanak-kanak)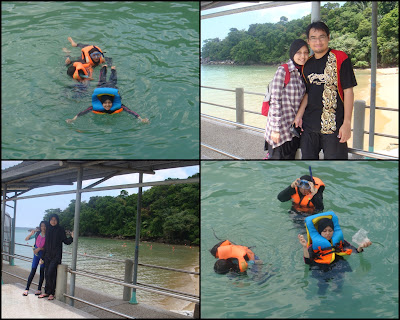 11am, we start our activities with snorkeling at Marine Park. Here, not much interesting creatures you can enjoy tho. Ada la ikan sikit. No need to spend your time here. Sekejap pun dah ok. Safety jacket & goggle, rent it with rm5 per piece. Bought roti ikan for fish feeding at any kedai runcit because it is much much cheaper than the one that sold at Marine Park.



Next, we took an adventure ride to Kg.Juara. Memang adventure naik 4wheel drive dalam hutan. Syiok. The journey to Kg.Juara is about 10km. If you dare to jungle trekking pon boleh. 7km walking in the jungle using the track. Ramai Mat Salih yang suka trekking nih.



Sampai kat Juara beach, kami rehat tepi pantai.




2org budak tuh dah terjun dalam laut. Pantang jumpa laut. Hehe. The beach, masyallah cantik. Oleh sebab Juara nih tempat yang terpencil, pantainya sangat cantik. Masih dara. Hehe. Surprisingly, air laut at Juara beach tak masin sangat compare with Marine Park. My theory for this condition is, the Juara beach is still 'suci' while the Marine Park dah ternoda dengan 'human waste'. Haha.



Aksi lompatan!
Penat kami lompat berbelas kali untuk dapatkan shot terbaek =p Hehe

Lunch time at warong tepi pantai. Price for food was ok for me. Tak la mahal sangat. The price is still in considerable range since we makan at an island. The taste pon ok. Well, I'm not so fussy person when it comes about food. Hehehe. Semua sedap bila dah lapar =p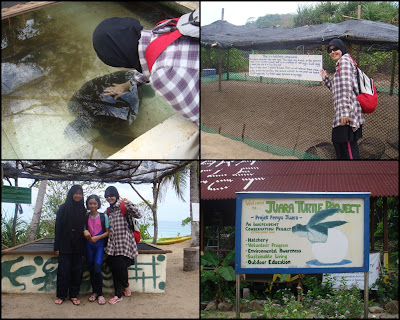 Next, kami ke Juara Turtle Sanctuary. Tak jauh dari Kg. Juara. This place was built by Mat Salih to protect turtle at Tioman. Volunteers who work at this place was sooooo nice & friendly. Terasa sangat welcoming & macam VIP. Hehe. They take care a 4 years baby turtle who born blind. Cacat. Kesian sangat. Saya belai & usap-usap her. Rasa sangat kasihan & nak nanges. Huhuhu. Drama gila haku nih =p Her name is Joe. Oh, kat sini kamu boleh donate & put your name at guest book. Derma ikhlas untuk selamatkan penyu. I did. Sapa pi tempat nih, sila cari nama saya. Hahaha =p



On the way back to Kg. Tekek, kami drop by at waterfall. Adventure jugak nih. Sebab kami kena masuk hutan, redah belukar, barulah jumpa air terjun nih. Jangan harap la nak jumpa orang kat sini. Kalau terjumpa tuh, silap-silap bukan orang. Hehehe. But the waterfall, again, masyallah. Cantik sangat. Dalam gambar kurang jelas. Terselindung dengan pokok. Btw, all of these activities is by ourself. Takde tour guide. The guy who drove the 4wheel drive only drops us at these places. So, pandai-pandai la kami explore sendiri. Go for adventure!



Next is, aktiviti laut pula.




Kami ke jetty Kg.Tekek. Took a speed boat to Soya Beach, Monkey Bay & Renggis Island. Bermulalah episod aktiviti snorkeling kami. Hehehe =) Ini merupakan pengalaman pertama kami. Jakun + cuak + excited. Mula-mula tuh memang cuak habes. Kami memang totally depends pada adik-adik den yang pandai berenang itu. huhu. Malu den. Tak reti berenang. hehehe. Bila dah reti snorkeling, memang best lah.



Jakun bila tengok ikan & coral dalam laut. Masyallah. Indah & menakjubkan. And the fish especially, sangat friendly. Kita belum bagi makan, depa dah kerumun keliling pinggang. Mula-mula den panik kojap. Rasa macam ikan pirana serang den hah. Ish. Geli pon ye jugak. hehehe.




The coral, masyallah. Really cantik. Berjenis spesis & warna. Amazing. Ni baru Tioman, I'm sure Sipadan's coral is much more amazing than here. Oh, kami tak berkesempatan ke Coral/Tulai Island kerana kesuntukan masa + cuaca yang tak begitu baik. Sayang. Orang kata pantai di situ cantik. Putih bersih.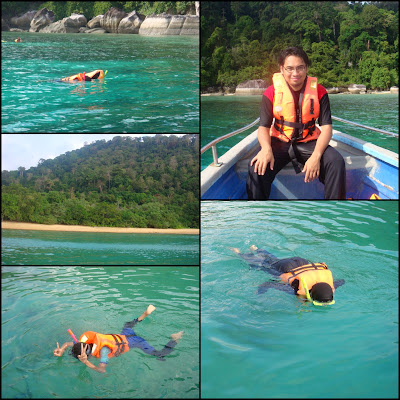 Overall, seronok betoi la. Ni yang den rasa gian nak pi snorkeling lagi nih. Redang or Kapas or Perhentian? Sipadan maybe? ngehehe =p

Day 3
Nothing much to do.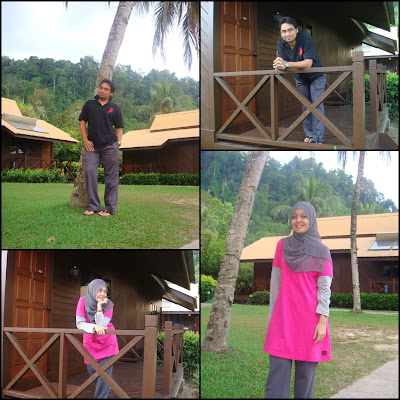 The Chalet.
Pose underneath pokok kelapa =)
Muka busuk tak mandi pagi. Hehe

Morning, breakfast at Sri Nelayan Restaurant. The dishes were absolutely superb. Sampai ke hari ini den terkonang bread pudding. Adus. Meleleh duh. After breakfast, kami berdua-duan berjalan dipersisiran pantai. Bak kata adik haku yang kecik, kak long & abg syah nak menikmati saat-saat romantik. Ceh. Kecik-kecik dah pandai jiwang ye =p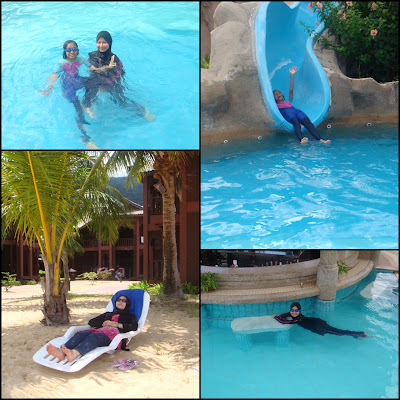 Mean while, adik-adik ku itu bersuka ria dalam swimming pool. Tak puas kat dalam kolam, nak mandi kat laut pulak. Aih, layan kan sajo lah. Saya pulak sun bathing bersama Mat Salih half naked itu. Hehehe. Haku je yang sun bathing tutup aurat. Haha. Baru ku tahu rupanya memang la syiok habes sun bathing nih. Sambil baring ditepi pantai, underneath pokok kelapa, angin sepoi-sepoi bahasa. Hmmmm… zzzzzzzz. Memang tertido la haku. Hehehe. Ok, akibat syok sangat sun bathing, kulit sudah bertukar menjadi tan ala JLo. hehe =p



Meet my 'Superman' ngehehe




2pm. Check out.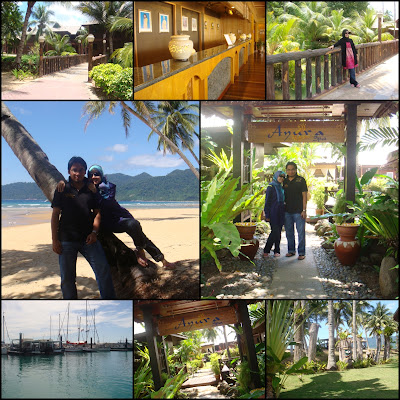 Sempat snap a few pics for memory before going back. 3.30pm, shuttle bus pick up us to Kg.Tekek Jetty. 4.00pm, ferry arrived. Unfortunately, masa balik ombak kuat. Melambong-lambong kami dalam ferry. Memang rasa pening + loya. Perjalanan balik mengambil masa 2jam ½ disebabkan cuaca kurang baik & ombak kuat. Sebagai kenang-kenangan, kami beli souvenier di Jetty Mersing yang jauh lebih murah berbanding harga souvenier kat Pulau Tioman.

Bagi yang mahu honeymoon, Pulau Tioman mungkin boleh jadi destinasi kamu. Sebab, banyak yang menarik & tertarik di sini. Berbaloi-baloi!