Pagi-pagi lagi, sudah mahu cerita tentang makan ;) mungkin kerna perut tengah berkeroncong. Agaknyalah. hehehe. alasan semata ;p


Program : Makan-makan di Rak Thai bersama my VBFF (very best friend forever)

Venue : Rak Thai, The Gardens (opposite Big Apple Donuts kiosk)
Participant : Saya & Syah, Hafsah & Jasman Haris (Jo), Nadiah & ……(to be found soon.hehe)

RM 89.90 ++ for 5pax

Jom lihat menu :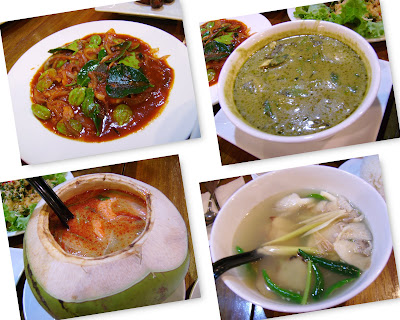 Nasi putih, Tom Yam Khung, Clear Tom Yam, Deep fried Siakap with lemongrass, Fried Kangkung with shrimp paste, Green Chicken Curry, Spicy Squid, Fish cake (ala-ala begedil ikan), Jasmine tea, extra menu (tamak ler nih. Hehehee) Fried chicken with lemongrass and sambal petai udang, fresh coconut juice ;) Not to forget, Giant Currypuff (Giant Currypuff kiosk is next to Rak Thai)

Komen :
Semua menu disini harus dicuba ya! Saya akan try menu ala carte Rak Thai nanti. Pasti. Overall, menu Rak Thai sangat lah Thai. The paste and food admixtures is originally from Thailand. Memang terasa kick. Selupa itu Thai Tomoi ma. Hahaha. Cuma spicy squid saja yang extra kick. Manyak pedas woo. Den tak tahan pedas. Huhu.

Environment pun seperti anda berada di Thailand. Sawadikappp. Kap kun kapppp. Semua staf termasukla chef, waiter & waiteres orang Thailand, lagu pun pasang lagu Thailand na. Recommended for those who love seafood & thai cook. Worth it to try ;) No harm. Hehehe. Oh, kalau anda berminat nak beli paste dan bahan tambah masakan yang lain made in Thailand ada sini tau. Jualan barang-barang tersebut macam kat kedai runcit Thai ;)

Nota kaki : Som tam pun ada jual kat sini.