Macam mana ya bila kita berjumpa semula rakan-rakan sebaya satu sekolah selepas 10tahun? Mesti dalam kepala otak kita fikir dan tertanya-tanya bermacam soalan
Eh..macam mana ye rupa mamat @ minah tu sekarang ye?
Dia tu kan dulu paling ngetop kat sekolah, masih ngetop macam dulu ke ek?
Em, secret admire aku dulu tu macam mana ek? Gemuk kah? Kurus kah?
Ntah-ntah dia dah kawen kot..
Oh, dia ni dah bertunang ye.
Weh, budak tu kan hampeh dulu, nakal, mmg prob ah, dia skg ni mcm mn? Wah,dah success? Macam tak caye je kan.
Dia ni pon dah kawen ?
La, diaorang ni dah kawen rupanya, panjang jodoh ye (merujuk kpd kawan-kawan yang kawen dgn rakan sekolah sendiri samada bercinta ms sekolah atau slps sekolah)
Ha,dia ni dah ada anak rupanya…
Dan semua soalan kita itu terjawab bila bertemu tuan empunya diri. Dari zahirnya kita sudah tahu kawan kita ini sudah berubah secara total. Rupa, imej, semuanya berbeza dari 10tahun yang lalu. Tapi, apa yang tak mungkin berubah ialah, persona & kebaikan hati kawan kita itu. Dia masih lagi charming, bubly, talkative, shy, agresif and so on. Walaupun sudah lama tak ketemu, tapi kita tak rasa janggal bersama dia. Mungkin juga kerana ikatan persahabatan itu tiada sempadan. Friendship Abadan Abada ;)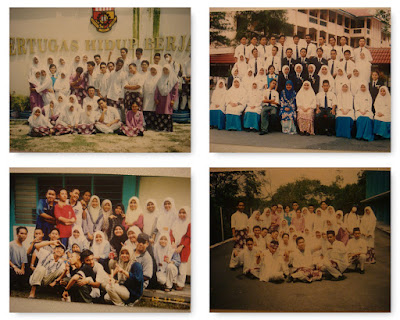 cuba teka mn satu aku.hehehehe ;p
class of awam 2 1999/2000
Reunion TIKL students batch 1999/2000 – Celebrating the 10th year friendship anniversary.
more update about the event
here