Hari minggu lalu,rinduku terubat jua untuk ketemu kawan-kawan sehidup semati gue.hehehe.memang rindu bangat dan teramat! Dah lama tak bergelak ketawa,gurau senda & bercerita tentang macam-macam.termasuklah cerita sensasi itew.ahaks.pandai ye korang nak korek secret aku ;p

Objektif : lepak, borak & makan!!! Yahooo ;) yaya.aku tau bulan ni asyik entry makan je kan.ok.dengan ini,saya mengisytiharkan bulan jun sebagai bulan makan.voley???hehehe ;p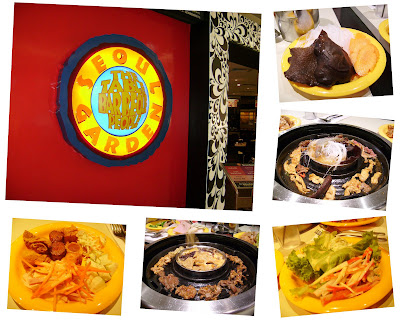 Lokasi : Seoul Garden, restoran makanan Korea, stail buffet.
Menu : Steamboat & Barbeque



Team Lepak : Saya, Fira, Hanim, Zura, Tirah & Dalila




2jam++ kami makan berselang seli dengan gelak ketawa + mengilai + kepohci + havoc dalam restoran. 2jam makan? Hehe..kami memang suka makan ;) Dan kesemua ini bersamaan dgn kenyang + suka hati + hilang stress + priceless! Harga sebuah persahabatan tiada ternilai ya.



Topik hot : kisah Cik Tirah dan jeritan misteri.hehehe.sampai kat umah aku dok senyum sendiri bila teringat cite ko tu Tirah.lawak king okey.hahaha. Hanim the bussiness woman, mencadangkan utk start biz wif 10BH. Cadangan diterima. setuju! Aku join. Insyallah. So,sapa lagi yg berminat? Oh, trip to Korea ;) ewah ewah. Insyallah,impian akan bakal direalisasikan…tahun depan. Masih dalam perancangan. So,start la kumpul duit naaa ;) harap-harap dapat ler durian runtuh.hehehe. moh kite, jom pakat sume join ye.

Komen saya tentang semua hidangan kat sini? Sedap! Harus dicuba ya. Sangat puas hati. Worth to ur money.hehe ;) I pick Bougogi Beef to be the most marvelous barbeque ever! Rasa daging enak,manis,cukup perisa & juicier. all the marinate ingredient mix well & blend together with the beef. and...make it soooo tasty. yum yum. I loike it!

For steamboat, my fav, kim-chi soup ;) baru rasa betul-betul berada di Korea gitew.hahahaha. kene dress macam orang Korea nih. LOL
Others menu, tom yam soup, variety of steamboat stuff ( seaweed, soo un, mushroom, kangkung, foo cuk), variety of barbeque fish, prawn, kerang, siput lala, kepah, chicken & beef), nasi goreng, desert (ice-cream, ABC, jelly), salad (fruit & vege).

give ur try!

nota kaki : aku sayang bangant sama kamu semua :) muah.
hari ini 1 Rejab.Puasa yuk! :) berkat