GAME NO.1 : saya di tag oleh miss mawar..sori,akak lmbt buat tag nih..hehe
You Are Aurora! (A.K.A. Sleeping Beauty.)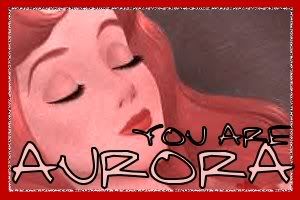 Thoughtful and loving. Authority figures probably have been sheltering you all of your life. Thankfully you're a very tranquil person who is content with what life has given you, but secretly you want to know how the outside world works.
Which Disney Princess Are You?
hehehe..aurora is a real name of sleeping beauty..
mcm lagu extrange yg baru tuh..haha :)
aih,mentang2 la aku nih mmg kaki kuat tido,
buat kuiz cm nih pon dpt sleeping beauty..ceh! haha
ya ya..mmg aku suka tido
itu psl la gmbr kat blog nih pon aku ltk gmbr tido..LOL
GAME NO.2 : saya di tag oleh ungu voilet...
1. Do you think you're HOT?
suam-suam ketiak jer..haha ;p
2. Upload a fav pic of you
3. Why do you like this picture?
sbb gmbr ni bukti hobi saya..haha
4. When was the last time you ate pizza?
last saturday..sbb haku mls nak beratur pjg kat KFC..
saya kempunan KFC..huhu
5. The last song you listen to?
That's why u go away..by micheal belajar nak rock
hehe..micheal learns to rock lor
6. What are you doing right now besides this?
erm..nothing
7. What name u prefer besides yours?
nurul
8. People to tag:
1. Athirah
2. Sofa
3. Hafsah
4. Diha
5. Farah
9. Who is no.1
my gang of 10 budak hitam
10. No.3 is having relationship with?
En.Joe..hehe :)
11. Say something about no.5
mommy-to-be..saja nak srh cikgu yg tgh relax tuh bz skit..hehe
12. How about no.4?
budak yg br lps habis study..hehe..
13. Who is no.2
adek gue!
nota kaki
: esok (18/12/08) saya akan mendapat kad kahwinku..
tgh berdebar2 tahap gaban nih..takut..tak tau hasilnye cm mn..
cuak..tiap2 malam haku tak lena tido sbb benda nih..
smlm haku mimpi ngeri plak tuh..all bcoz of wed card! huhu...